THE MARSHALL ASTORIA SERIES – HAND-WIRED IN MILTON KEYNES, UK
HIGH END QUALITY NOW AT UNBEATABLE MUSIC STORE PRICE!
The Marshall sound experts developed new, independent guitar amplifiers with the highest possible standard of quality, which produce rich, warm and unique sounds and thus meet the current demands. Accordingly, the Marshall Astoria series is not about merciless 100-watt bolides, but solid tube amplifiers that offer their qualities on a session, during recording or at home convincing character. All Marshall Astoria amplifiers are hand-wired thanks to the modern circuit board base and standing solder points for the components. Thanks to innovative circuit details and the absence of semiconductors in the signal path, they provide the greatest possible sound fidelity. The cabinets are made of birch plywood and are well known for their improved musical resonance in combos and cabinets.
Marshall Astoria Classic AST1
The Marshall Astoria AST1 models use the purist approach of single-channel design to deliver clear, rich tube sound. The large headroom offers stable cleansounds and is an ideal partner for those who cannot do without their effect pedalboard.
Click Here for products
Control panel
: Edge, Bass, Middle, Treble, Sensitivity, Master, Hi/Lo Input
Marshall Astoria Custom AST2
The Marshall Astoria AST2 models have an adjustable and foot-switchable gain boost (+20db) integrated, with which powerful, singing lead sounds can be implemented with the right foundation. Thanks to the tube-driven FX-Loop, also foot-switchable, the amplifier is very flexible. The FX-Loop is equipped with a level control and can also be used as another footswitchable volume. In addition, the push/pull body circuit is an advantage, as +8db at 120Hz pushes riffs impressively forward! The Astoria Custom is designed for guitarists who want to focus on dynamics and tonality and don't want to miss out on the extra.
Click Here for products
Control panel
: Master, Edge, Bass, Middle, Treble, Boost Switch, Gain, Hi/Lo Input, serieller FX-Loop
Marshall Astoria Dual AST3
For those who want a two-channel layout, the Marshall Astoria AST3 is the first choice. With the second preamplifier channel, the overdrive sound can be controlled by footswitch.
If you set the master volume to "British", the amp behaves like a Marshall without master volume. The FX-Loop is equipped with a level control and can also be used as another footswitchable volume. Click Here for products
Control panel: Master, Edge, Bass, Middle, Treble, OD Volume, OD Gain (Pull Body), Clean Volume, Hi/Lo Input, serieller FX-Loop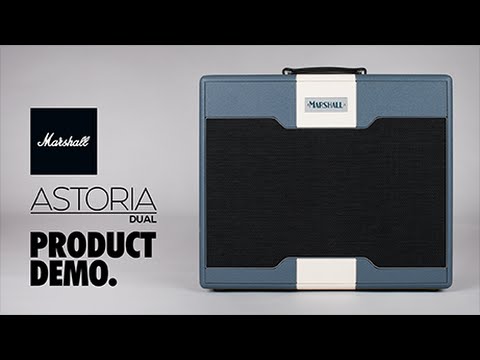 **Prices Subject to Change