Launched at NAMM 2015, the new Allen & Heath Qu-Pac takes the features of the Qu series and repackages them into an ultra-compact mixer in either desk or rack mount format. Qu-Pac allows the freedom to mix from an iPad as well as the front panel and touchscreen, where all the functionality is available to users providing super-fast, easy access to all settings. The user-friendly interface has been designed with clarity in mind. Dedicated keys and screen tabs quickly guide you to meter and RTA views, FX racks, channel processing, USB audio control, scenes, setup menus and much more.
Qu's built-in interface streams multitrack audio to your Mac or PC via a flexible patching system: all Input channels and the Main LR can be recorded at the same time, or you may choose to record something different such as FX returns or a pair of mixes.
The returns from the computer can be assigned to the Input channels. The interface is class-compliant on Mac OS X – and drivers are available for Windows systems. Either way, it will be recognized straightaway by any DAW supporting ASIO or Core Audio, including Logic, Cubase, Reaper, and Pro Tools.
With custom settings and Cat5 expansion up to 38 inputs, Qu-Pac provides a scalable, failsafe solution for hardworking bands, schools, hotels, corporate events, live music bars, conferences, personal mixing and many more scenarios requiring a pro mixing solution in a tiny footprint.
User permissions and the customizable Qu-Control screen make Qu-Pac convenient and safe for day-to-day use by non-technical staff.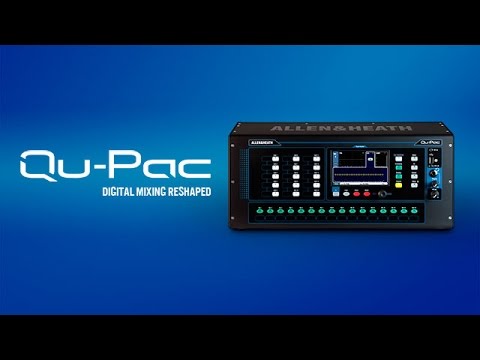 Features:
16 acclaimed AnaLOGIQTM recallable preamps
16 on-board Mic / Line Inputs (XLR / TRS)
Expandable up to 38 inputs via dSNAKETM
3 Stereo Inputs (TRS)
32 Mono + 3 Stereo Input Channels
12 on-board Mix Outputs (XLR)
4 Stereo Groups
2 Stereo Matrix Outs
AES Digital Out
4 DCA Groups
4 Mute Groups
Qu-Pad iPad App for all live mixing controls
Qu-You iPhone App for personal monitoring
Qu-Drive direct Multitrack Recording / Playback on USB drives
15 Soft Keys
16 Custom Select keys
Qu-Control custom screen to suit application
4 FX Engines
4 FX Sends / Returns
32×32 USB Audio Interface
5" Touchscreen